Research and Development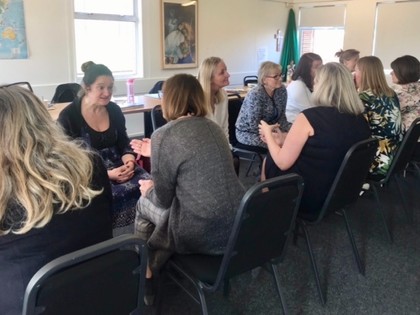 Our Senior Leaders 'Edu-dating' to compare and share
Research and Development
The Good Shepherd Trust is continually striving to improve the learning experiences for all young people in our academies, alongside the career development of our staff.
We actively encourage teacher research and the development of outstanding pedagogical practice. We use the SSAT Lead Practitioner Accreditation Programme to foster a research-based profession and support teachers in the Trust to undertake small scale research projects, to trial new methods and to be able to disseminate good practice. We also promote engagement with projects that are facilitated by the Education Endowment Foundation.
The Trust hosts an annual Staff Learning Conference in which teachers present their research findings to their peers, developing collaborative learning and facilitating school to school support.
Career Related Expectations
Our Trust promotes progression through our career related expectations as a professional development journey for teachers and to embed reflective practice in the performance appraisal process.
Every year the Trust seeks funding for research and development projects and, in addition, commissions projects of it's own in strategically agreed areas which support the Trust's Startegic Development Plan.
The Trust intends to utilise this website in order to shared good practice and disseminate information about Research and Development.
If you are interested in undertaking research and development through the Lead Practitioner accreditation programme, please contact Kate Evans.
Current Projects
Watch this space...exciting projects appearing here soon!