Latest News
Posted on: 08/05/2019
Servant Leadership - Lead Like Jesus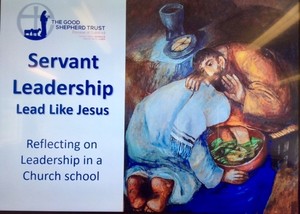 Today we hosted our most recent Twilight CPD session for leaders at all levels, on the topic of servant leadership and what it means to 'Lead like Jesus'.
Leaders from our schools analysed and evaluated what servant leadership, as seen in the person and works of Jesus, means when applied to school leadership.
We explored 'life role leadership' and 'organisational leadership' and who has influenced our own thinking, life path or life choices. Servant leadership is important because people look to us and we have a major role in the formation of Christian community, culture and ethos in our schools. We noted how this form of leadership can be highly successful in many contexts other than education, such as business, government and sport.
Servant leadership focuses on a style of leadership which is about how the leader serves the needs of the followers, rather than being served.
Our thinking was informed by Robert Greenleaf's 10 Principles for Servant Leadership, the work of Dr Owen Phelps on the S3 model - Servant, Steward, Shepherd and the biblical mandate for servant leadership in Christian communities.
Some reflections from participants included:
Servant leadership involves changing people's perceptions of the role of the leader
How do I influence people to become servant leaders?
Make more time for reflection
How can I use the model to be visionary and to inspire and encourage others?
What are the best conditions for cultivating a servant leadership culture?
Further information can be found here.