What We Do
Our Vision
Our vision is to ensure that our schools provide high quality, holistic education within a distinctively Christian context for all learners, enabling them to reach their full potential.
To achieve this the Trust is deeply committed to its schools and will develop partnerships across and beyond the Trust, with local authorities and others to build improvements.
A copy of the Strategic Plan for The Good Shepherd Trust can be viewed or downloaded here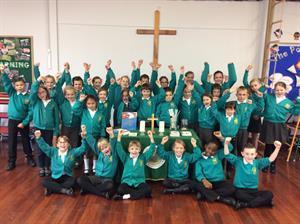 Our Values
Jesus The Good Shepherd, signposts the values, which guide our work and relationships.
He knows his sheep well and gathers them together and they know him well and entrust their care to him [Gather, Welcome, Provide, Love, Trust]
He opens the door of the sheepfold, a place of safety [Share, Sustain, Protect]
He helps the sheep to journey from one place to another [Direction, Journey]
He seeks the lost sheep [Steward, Save, Create Justice, Include]
He lays down his life for the sheep [Serve, Sacrifice]
If you would like to know more about 'The GST Way' click here.

What makes us unique?
We create an effective climate for learning by:
enabling children to know that they are uniquely valued
providing a secure environment in which they can learn
creating a clearly established framework of values
offering children, whatever their faith or background, the opportunity to wrestle with life's 'big questions'
modelling Christian community life where all have a place and can contribute.
We set standards of excellence in teaching and learning
We acknowledge that high expectations raise aspirations of pupils and their communities and believe that professional development of staff and school leaders is central to this.
We offer a curriculum and learning environment relevant to our learners
In addition to high standards in the core curriculum this also includes learning experiences which stimulate, challenge and inspire.
We build strong and effective partnerships with parents and the local and wider community because:
the engagement of parents/carers is vital to children's educational achievements

church schools are rooted in the local parish and wider church networks which provide practical and prayerful

support for their schools

children's personal development grows through membership of community and enables them to become

contributing citizens.