Who We Are
Welcome from the CEO
You can also read the CEO's welcome here.
Mission Statement
Our mission is rooted in the Bible and the mission of the Church in the Diocese of Guildford. We believe that we are stronger together.
Transforming Schools -Transforming Lives
In the name of Jesus, The Good Shepherd.
"I have come that they may have life, and have it in all its fullness. I am the Good Shepherd" John 10:10-11

The Good Shepherd Trust (GST) is a family of 16 church and community schools within the Diocese of Guildford.
Established in 2012 as a multi-academy trust, (MAT), the Trust believes in the value of each young person and the importance of holistic education at all of its schools.
In partnership with schools the Trust strives to provide transformational education by setting high standards, encouraging and recognising positive achievement in everyone, raising aspiration, increasing opportunities and improving standards.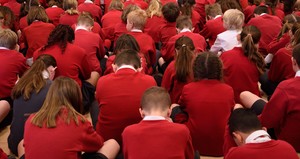 The Good Shepherd Prayer
Father,
You gave your Son
Jesus Christ to be the good shepherd,
And in love to lay down his life and rise again:
Keep us always under his protection,
And give us grace to follow in his steps;
Through Jesus Christ Our Lord.
Amen.