Who We Are
Welcome from the CEO - Paul Kennedy
The Good Shepherd Trust (GST) is a family of 16 church and community schools located within the Diocese of Guildford.
You can read the welcome from our CEO here.
Mission and Purpose
Jesus said:
"I have come that they may have life, and have it in all its fullness. John 10:10-11
The Good Shepherd Trust is rooted within the Diocese of Guildford and our mission is to ensure the best possible educational outcomes for every pupil.
We believe that every pupil has the right to a broad and rich education to be achieved within a distinctly Christian context, valuing each child as an individual and enabling them to flourish by discovering and developing their God given gifts.
Our purpose is to build a strong and high performing family of sustainable schools supported by first class shared services. Working together, we will enable our people to achieve excellent outcomes for pupils, and harness resources to secure the long term future of our schools.

The GST Way - Our Principles
Distinctively Christian, with leadership characterised by serving others
With schools and for schools
A stronger family by sharing expertise
Collaborating for the common good
Strong stewardship and effective governance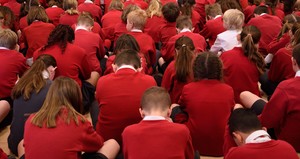 The Good Shepherd Prayer
Father,
You gave your Son
Jesus Christ to be the good shepherd,
And in love to lay down his life and rise again:
Keep us always under his protection,
And give us grace to follow in his steps;
Through Jesus Christ Our Lord.
Amen.