Associate Schools
What is Associate Membership?
Associate Membership of The Good Shepherd Trust is open to schools who are seriously considering becoming an academy with us.
Typically they will have:
formally resolved at a Local Governing Body meeting to pursue becoming an academy
applied for conditional consent to the Diocese (Diocesan Schools only)
approached the Trust for assistance with leadership or an aspect of school improvement services as part of their journey towards becoming an academy
Associate membership is a necessary stage in a process of developing mutual understanding prior to:
the Trust Directors formally accepting a school into the academy conversion process
before the school makes its formal application to the Regional Schools Commissioner (RSC) to become an academy
Associate membership allows structured access to the network and activities of the Trust. A mutually agreed Memorandum of Understanding will be developed to meet the needs of the school and the Trust. Typically the school will want to draw on support for educational improvement, leadership capacity, financial management, or human resource management.
Enquiries about becoming an academy and Associate Membership should be directed to the Chief Executive Officer who will be pleased to talk to Headteachers, leadership teams and Local Governing Bodies.
Diocesan schools who wish to apply for Associate Membership should be familiar with the Diocesan Strategy for schools and the proposed landscape for multi-academy trusts.
The Trust is open to applications from local authority maintained schools who are working closely with existing Trust academies or have already affiliated to the Diocese of Guildford. Maintained schools will need to empathise with the values, purpose and principles of the Trust.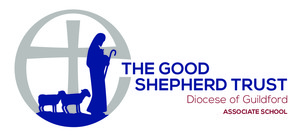 Schools with Associate Membership
The following schools are in Associate Membership with the Trust as of December 2019:
Scott Broadwood C of E Infant School